Pickfords is driving up social mobility through recruitment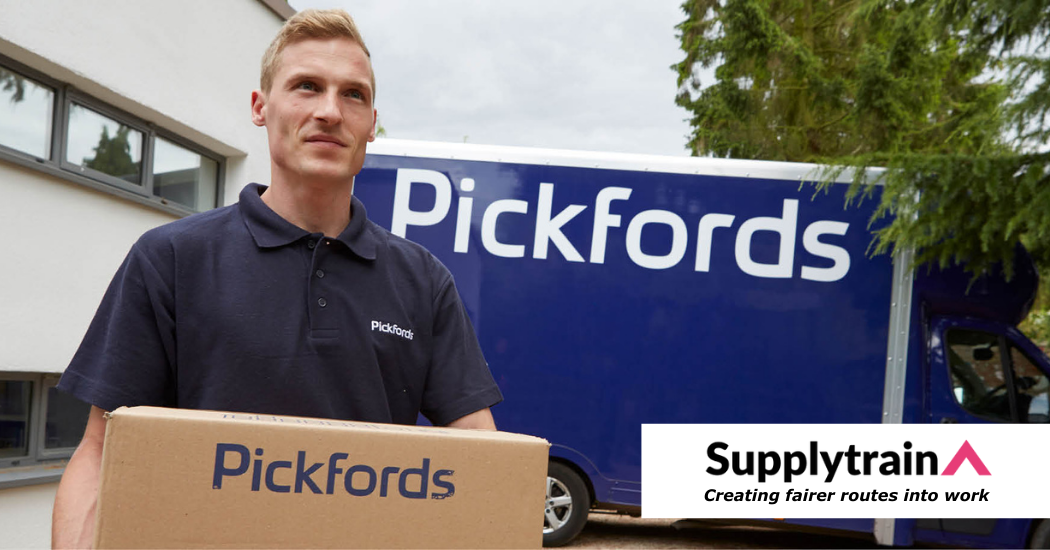 Supplytrain CIC is delighted to announce an agreement to provide recruitment and support services to Pickfords Move Management Ltd, supporting the UK's largest removals company to offer fairer opportunities for staff to climb the career ladder and progress at work…
Pickfords has been providing removals services for over 400 years, navigating a plethora of business challenges in that time, including the use of canals, the railways, lorries and, more recently, legislative changes to working practices.
Today's challenge is smaller in scale, but relevant in today's economy, as like many businesses in the UK, the company is struggling to recruit HGV drivers and recognises that their workforce is ageing and that they need fresh talent to come in and learn from their experienced staff before they retire.
To help address this problem, Pickfords has chosen to recruit through Supplytrain CIC, a not-for-profit recruitment and support agency, that helps employers find talented individuals that have the raw attributes to succeed in a business long-term, but just need an opportunity to prove their ability.
One of the roles that Pickfords is recruiting for is a Trainee Move Team Member. This role allows people with no experience, qualifications or a driving licence to get a start in the company as a professional packer.
From day one, the employees are put through company health and safety training, and those under 25 are assigned a Supplytrain CIC mentor to help them settle into their new environment and overcome onboarding challenges quickly.
Over time, Pickfords will then put staff through forklift truck training and reward employees that want to progress to a Driver / Team Leader role by paying for their driving lessons and helping them pass their driving test. This means people that cannot afford to take their driving tests have a clear route to accessing a driving job and a clear work goal to aim for if they want to progress at work.
The progression opportunities don't stop there either. Pickfords will then pay for Team Leaders / Drivers to add different categories onto their driving licences, training them all the way up to HGV Class 2, where they can be earning £40K a year!
Taking a long-term approach to recruitment and workforce development improves staff satisfaction, rewards talented employees and supports social mobility.
 Zeena Ozturk, Group Head of HR, Pickfords said:
"We started working with Supplytrain CIC to employ young people through the Kickstart Scheme and are pleased to now be working with them to recruit for us commercially. We have a shared ethos to develop people fairly, and they find us candidates that want to work and understand the long-term opportunities here at Pickfords."
Phil Golding, Managing Director at Supplytain CIC said:
"Pickfords epitomises the type of employer that we work with. We help businesses from all sectors to recruit for attitude and train for skill. Taking a long-term view of recruitment is cost-effective, improves employee satisfaction and supports social mobility. We're delighted to have Pickfords on board."
To find out more about Supplytrain's recruitment and support service, contact

[email protected]